The Orange County Illini Club Presents
Illini Great Dick Butkus
Join us on November 7, 2015 for a reception, dinner, and program featuring Illini Great and Bears Legend Dick Butkus '65 AHS at the Hotel Irvine.
Hear from the most feared defensive player in football, while celebrating Illini pride on November 7 with a reception, dinner, and program featuring Illini Dick Butkus '65 AHS. Hear Dick's stories about his time playing for the Fighting Illini and the Chicago Bears, plus his current project, The Butkus Foundation.

The Butkus Foundation's mission is to advance health and wellness in the community. Alumni in the healthcare industry may have a special interest in learning about the Foundation.
Orange County Illini Club Dinner
featuring Dick Butkus
November 7, 2015
6 p.m.
Hotel Irvine
17900 Jamboree Road
Irvine, CA 92614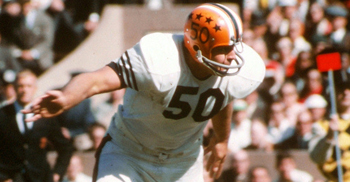 ****Tickets available now
6 p.m. Reception
7 p.m. Dinner
7:30 p.m. Program featuring Dick Butkus
Tickets: $75 for Orange County Illini Club members (not a member? Sign up now here); $80 for non-members. Ticket includes appetizers, dinner stations, 1 alcoholic or 2 non-alcoholic drink tickets per person, dessert, and coffee.
Dinner will include a pasta station and taco bar, vegetarian options available.

There are a limited number of tickets available to this event.
Please contact Jerry Clarke at jerryc1914@verizon.net or 714-319-7956 if you have any questions.
Sponsored by the University of Illinois Alumni Association.